Join us for talks about boundaries and consent every second Monday.
In any situation, you need to know your boundaries clearly and have the ability to communicate them to others, whether you'rethe free-est love swinger or the most conservative "don't want to be touched" person. Your feelings and your body are your own. Knowing and communicating your boundaries clearly is important and it shows Knowing your boundaries shows you the arena that you can play in safely and have some fun! I'll teach you how to define and convey your boundaries, how to handle boundaries in different situations—from everyday interactions to visiting a dungeon—and how to communicate when your boundaries are violated, whom to communicate the violation to, and how to follow up.
Join the reminders list to the right (or below, for mobile users) for email reminders and the link for each event as they happen!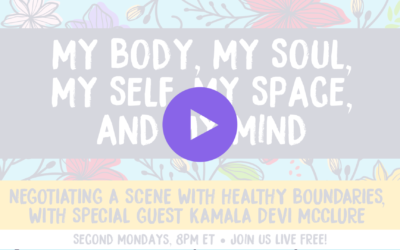 Timestamps:Featured Presentation: 0:00 - 33:00Word from Our Sponsor: 33:00 - 38:30Q&A / Open...
[cma-questions cat="boundaries-consent" sortbar="0"]