Welcome to the rope community on Dating Kinky, a monthly discussion and gathering place for people who love rope: tops, bottoms, switches, artists, riggers, bunnies… As we grow (in episodes and content), this section will grow as well, in resources and information. *smiles*
Knotty Time is our premiere UK show, hosted by Growly from Rope With Bite.
Join the reminders list for email reminders and the link for each event as they happen!
Get reminded.
Get reminders for Knotty Time and our Webinar News! You'll be reminded 1 week ahead, 1 day ahead, starting in 1 hour, starting now, and you'll get a follow-up email for each episode.
You'll also get an email every Monday with our upcoming event schedule. *smiles*
Get engaged
We'd love to know what you want to learn! Tell us. *smiles*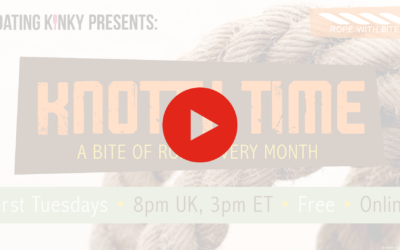 Join us for Knotty Time, a gathering for all those rope-curious and rope enthusiastic folks out...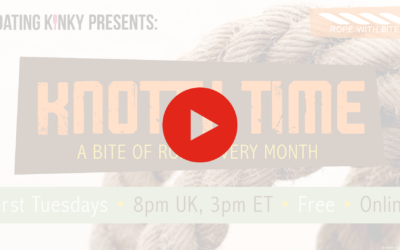 Chat Transcript: ZIP Timestamps:Featured Presentation: 0:00 - 53:00PLUS Membership Promo: 53:00 -...