Join us under the ethical nonmonogamy umbrella every third Wednesday for discussions about polyamory, open relationships, relationship anarchy, and everything in between.
Whether you're curious, opening up for the first time, or living in an 11-person polycule, the Nonmonogamunch welcomes you and yours. *smiles*
Join the reminders list to the right (or below, for mobile users) for email reminders and the link for each event as they happen!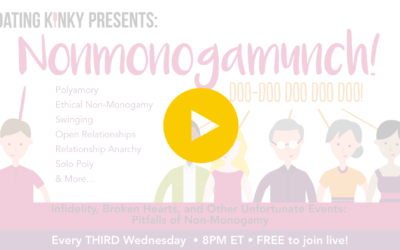 Chat Transcript: ZIPPresentation Deck: PPT Timestamps:Featured Presentation & 1st round of...
[cma-questions cat="nonmonogamy" sortbar="0"]