Dating Kinky Presents Book Series
Dating Kinky Presents is a new book series I'm creating to educate about kink in a friendly and approachable way.
It's my goal to share not only my own experiences, but the experiences and ideas of other kinksters on each topic. As we all know, there is no WON TWOO WAY, and a variety of voices and perspectives will speak to the amazing variety of kinksters in our community.
If you'd like to receive notifications of new kink book releases, and reminders about when you can download books for free, choose an option below:
The Big Book Of Ass
The Big Book Of Ass: All about anal play and pleasure, including training, communication, safety, and more is the second Dating Kinky Presents book.
This is Nookie's second book all about butt stuff, the first In Through The Out Door was published in 2015. In The Big Book of Ass, Nookie and kinksters from around the world answer your biggest questions about playing with your (or someone else's) backside.
Here's a sneak preview: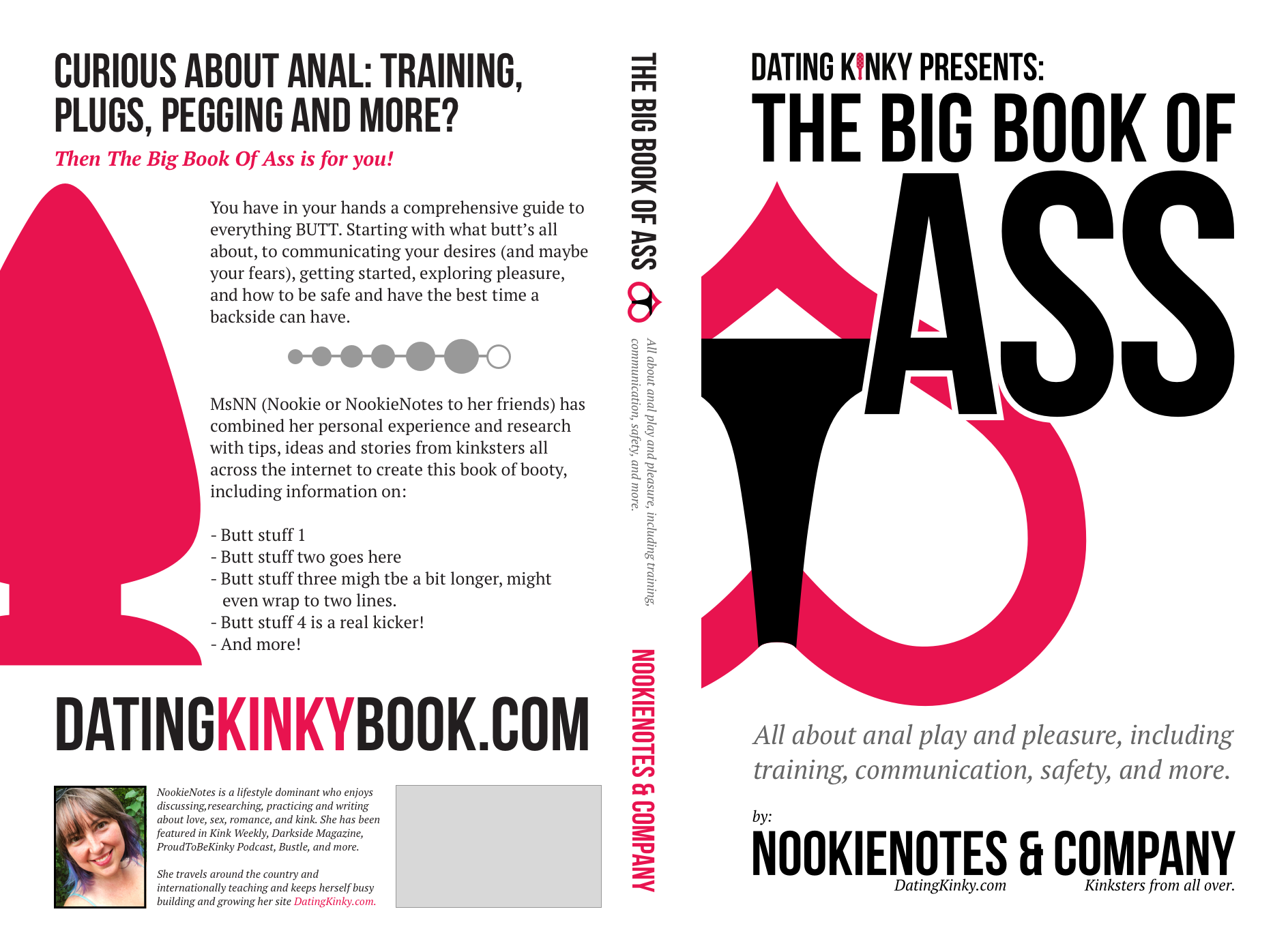 Publication: January 2020
---
Dating Kinky
Dating Kinky: How to find the kinky love of your fantasies is the first in our Dating Kinky Presents series of books on kink. Written by our very own NookieNotes with contributions from amazing (and experienced) kinksters from around the world, this is a book no one who dates kinky folk will want to miss.
Dating Kinky is a comprehensive guide to finding that special someone who has the compatible kinks that you're looking for. Regardless of whether you're new to kink or someone who's been in the lifestyle for years, this guide has something to help in your dating search.
MsNN (Nookie or NookieNotes to her friends) has combined her experience with tips, ideas and stories from kinksters all across the internet to create a treasury of kinky dating that includes:
Tips on writing your kinky dating profile
Composing the perfect first message
How to turn them down without being a jerk
Where to find kinksters in your community, online and off
Having the best kinky first date
Long distance protocol tips by Taylor J. Mace
After the date by Rebecca Blanton
And more…
Publication: September 2018