Each of us has a language of survival that we create as we grow up. We have a language of trust as well. In some, the language of trust has a huge vocabulary, and covers many varied situations.
They/we are the lucky ones.
CW: mentions of abuse
In some, the language of survival is the strongest, most nuanced, and pervasive language they understand.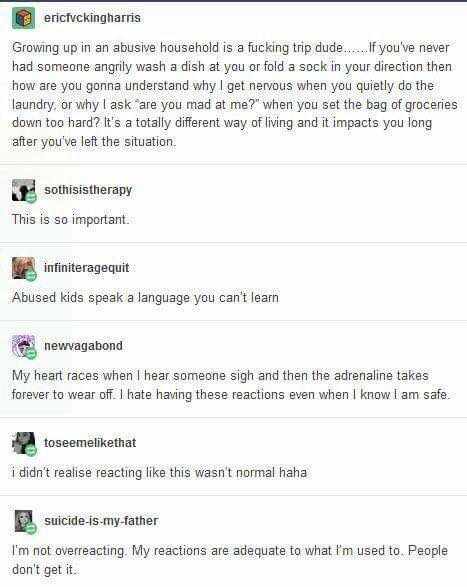 This conversation clearly shows the deleterious effects of languages of survival.

And as newvagabond points out, even knowing intellectually that they are safe is not enough.
The language of trust in their head is too small to overpower the survival mechanisms they've developed.
And if you live and love, you will meet these people. Perhaps you are these people.
And you could, if you choose, help them create their language of trust, by offering your own to them, and being a safe space.
Here are a few ways:
Validate. This does not always mean saying, "you're right," instead showing that they have the right to feel they way they feel. This means accepting and loving them for their fears as well as for their strengths.

Reassure. Speak to them of your OK-ness with their concerns.
Offer touch. Often, touch is as compelling, sometimes more, than the words. MAKE SURE THEY CONSENT. For those for whom touch is a part of their trauma, touch without consent can make things MUCH worse.
Be patient. Don't speak the words, but project the opposite. Actually be patient. We all have things to learn. You may be an expert at trust and being not-afraid. Great! Use that with them. As with any language, it may take years to become fluent in trust with you and with others… or like me and Russian, they may never get it. That's OK, too.
Understand this is not personal. It's not YOU. It's survival reactions to past lived-experiences. Also understand that as you hold your space safe for them, you are creating a language of trust with them as well. They KNOW/HOPE they are safe with you, or they would not choose to be with you, to put themselves in harms way. Their survival brain, though, doesn't feel it. Like when you are safe at home, and a pan drops suddenly in the kitchen,a nd you jump, because WTF!?!? and it takes a while for your heart to slow down…instinct. It's a bitch.
Last year, I wrote a piece about communication breakdowns when partners aren't safe. I think that's also a good reference to read. That one is also how we can add to their language of survival, often, even, without realizing the damage we're doing.
How do you create your language of trust with your partners?
Or… on the other side, how does your language of survival affect you and your relationships long after the original behaviors that created it have past?