I first had the idea to write Dating Kinky about three years ago, before I started my kinky dating site, or even intended to create one. In fact, the site grew out of the book, even if the book took longer to reach completion.
And now, it's here: https://www.amazon.com/dp/B07GMTCMBK
Live.
And free, today and tomorrow, through Amazon kindle.
YAY!
Super-YAY!
I really wanted to write a book that offers real, approachable, and actionable information on how to put yourself out there and meet kinky folk, poly people, fetishists and more—without making it sound like some sort of uber-secret society with special handshakes and a 117-point process for determining whether you are "TWOO" enough to get in.
Some of the things I cover:
Writing your profile
Picking your best pictures
Safety and privacy online
The first message
Community
Rejection (giving and getting)
And more…
I've put a lot into this book for the kinky community, and so have others.
Taylor J. Mace of http://www.feistyfoxfilms.com wrote a chapter on "Protocol Across The Miles."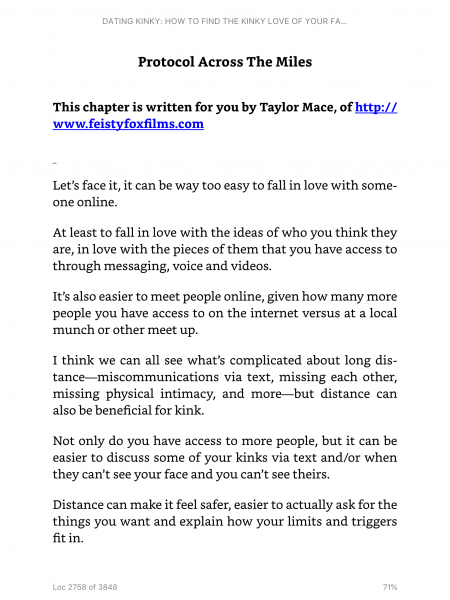 Alex W. of  http://SexologyBae.com co-wrote "Don't Believe Everything You Think," about examining our assumptions and our attractions.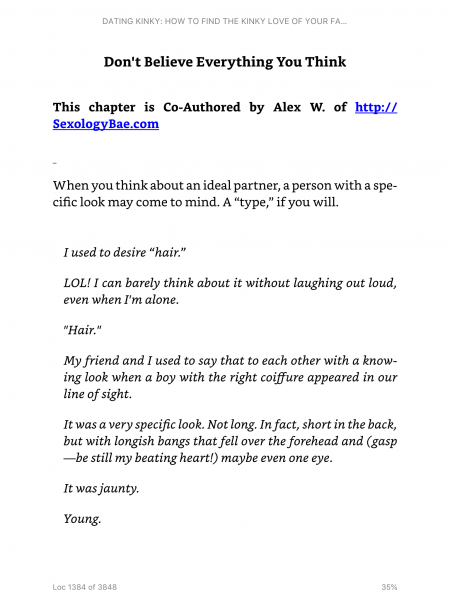 "Beyond The First Date," by Rebecca Blanton, author of "The Big Workbook for Submissives," from http://loveletterstoaunicorn.com and https://www.fatchicksontop.com is an entire section about entering the kink community and making the most of it.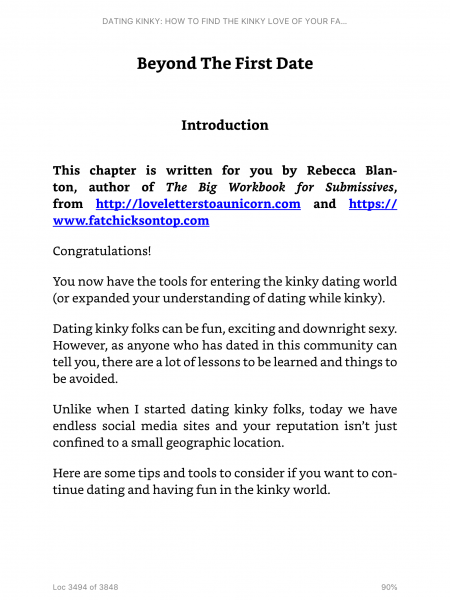 Luna Matatas of http://lunamatatas.com wrote "Five Things I Ask Potential Dominants Or Submissives Pre-Date," an insightful guide to getting to know how people think their kink.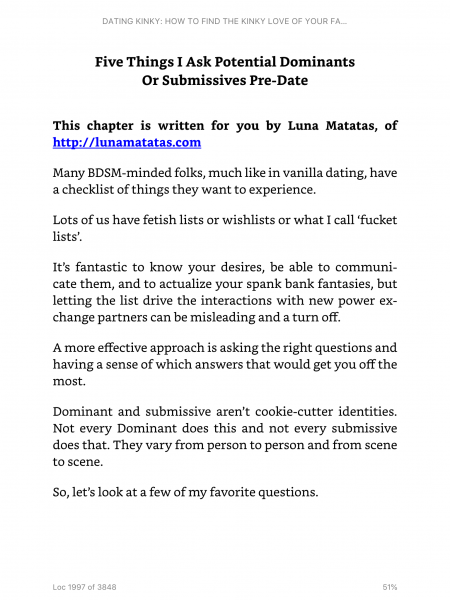 Other amazing people, like Ferns, Michael C., David Shade, and Franklin Veaux also contributed with their knowledge and presence in my life.

It's been an amazing journey to get to this point, and I'm excited to share this with you.

I hope you'll enjoy "Dating Kinky: How to find the kinky love of your fantasies." and share it with others!

US Link: https://www.amazon.com/dp/B07GMTCMBK
UK Link: https://www.amazon.co.uk/dp/B07GMTCMBK
DE Link: https://www.amazon.de/dp/B07GMTCMBK
FR Link: https://www.amazon.fr/dp/B07GMTCMBK
ES Link: https://www.amazon.es/dp/B07GMTCMBK
IT Link: https://www.amazon.it/dp/B07GMTCMBK
NL LInk: https://www.amazon.nl/dp/B07GMTCMBK
JP Link: https://www.amazon.co.jp/dp/B07GMTCMBK
BR Link: https://www.amazon.com.br/dp/B07GMTCMBK
CA Link: https://www.amazon.ca/dp/B07GMTCMBK
MX Link: https://www.amazon.com.mx/dp/B07GMTCMBK
AU Link: https://www.amazon.com.au/dp/B07GMTCMBK