I'm writing a book for FAD—Female Artists of Domination, my local FemDom group. ALL of the profits from this book are going to FAD, as a thank you for the many years (17 this September, right?) of amazing support and service they have given my local community.
Dating Kinky Presents: FLR, FemDom & Women In Charge: Finding, nurturing, and enjoying a woman-led lifestyle.
Here's the cover as it's designed right now: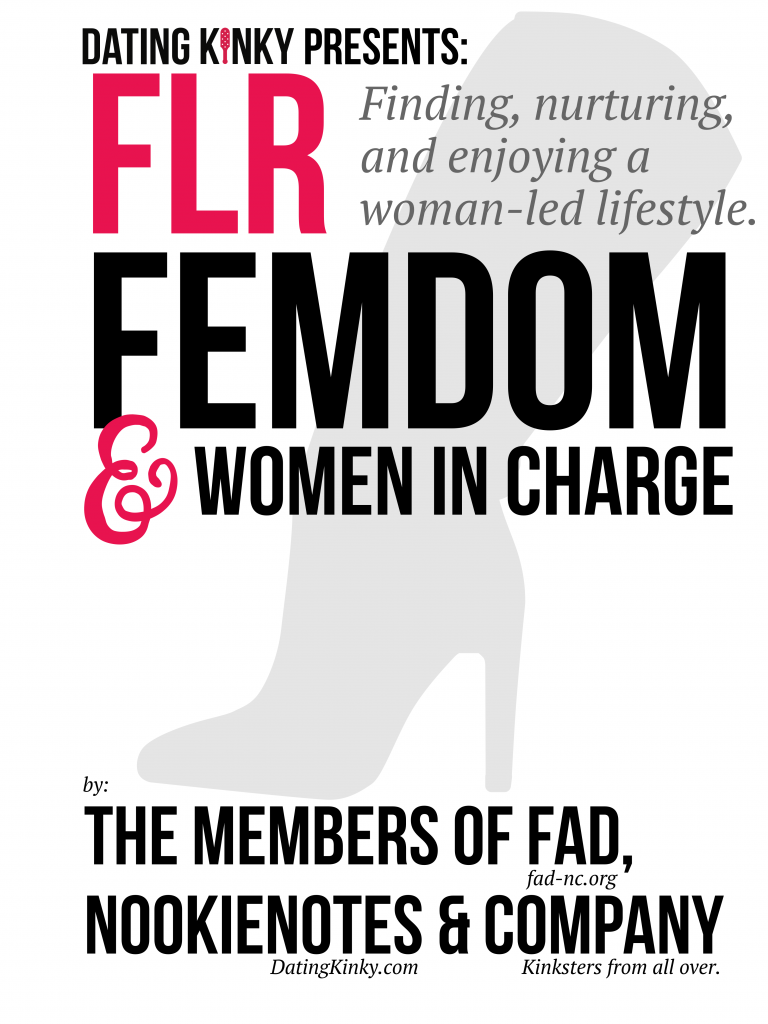 Here's how this is going to work:
There will be three themes:
Finding – Dating, meeting, approaching, etc.
Nurturing – Courting, developing, communication, and love/service
Enjoying – The fun stuff like ideas, fantasy vs. reality, playing and more.
Inside these sections will be questions.
Each question will be a chapter. The chapter will answer the question in a fun and easy-to-understand way.
Simple, right?
Yes.
But to make this AMAZING, I'm asking for your help.
We'll start with this post (which will be cross-posted to my blog, writings here on Fet, and my Women In Charge groups (here on Fet and FB), and other social media.
In this post, please help me brainstorm what questions we'll want to answer. Here are a few prompts to get you started:
What questions did you have when you were new to women-led relationships/play?
What questions do you WISH you'd asked (or that all newbies should ask)?
What questions do you still have?
Is there anything that you don't really think is a question that should definitely be included?
Any and all questions are welcome. In fact, once we get them, they will be organized, and we'll be asking you and others in the community to share your viewpoints/perspectives/experiences, to make the book by the community FOR the community.
smiles
NOTE: This will move fast. PLEASE keep an eye out to participate.
We REALLY want your input, so I'm hoping that we will all pull together, and share our stories, experiences, tips, and all the things to help others (and our friend and members) get the most of this lifestyle.
As I post more on this topic, I'll update with links here, so this master list can stay updated.