[am4guest not_have='p2;p8;p9;p10;p36;' ]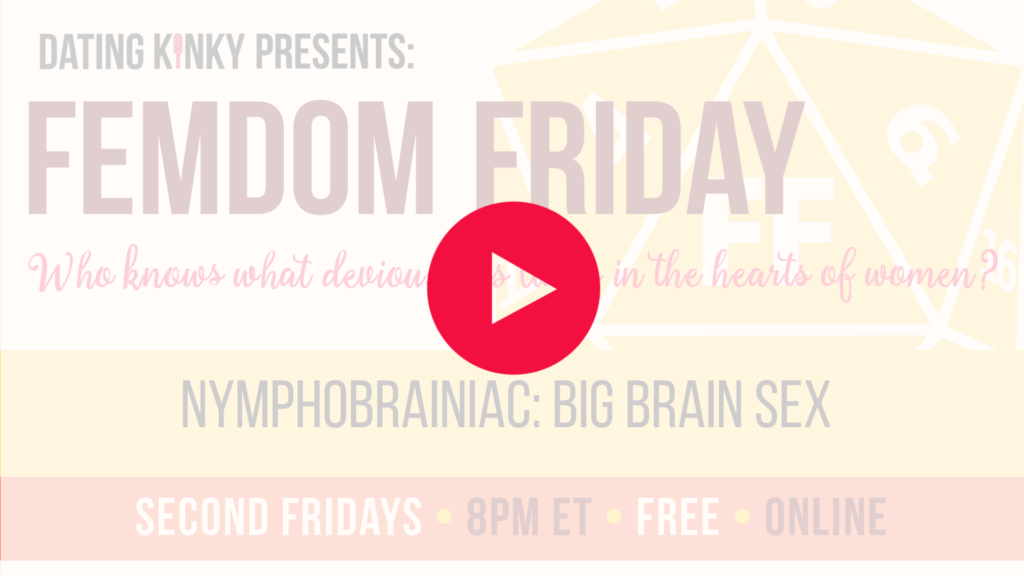 [/am4guest]
[am4show have='p2;p8;p9;p10;p36;' ]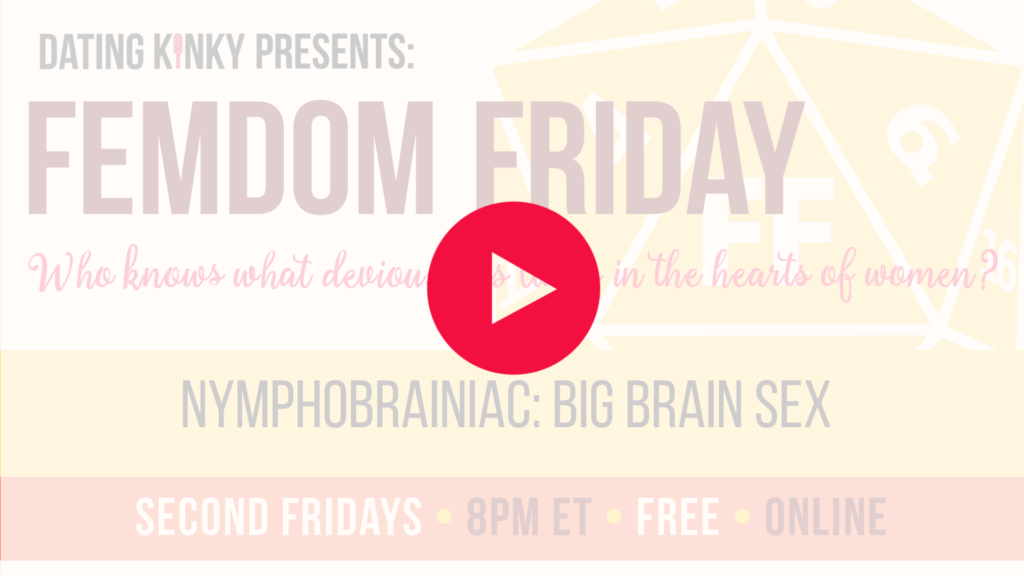 [/am4show]
[am4show have='p2;p8;p9;p10;p36;' ]
[s3mvp id='113′]
[s3mvp id='114′]
Chat Transcript: ZIP
Powerpoint: PPT
Ever wondered what goes on in the mind of Femdoms? How we select partners? Where we harness all our dominant power (it's not the boobs!) or how to get started? Join d20domme and guests as we open up the virtual floor to speak about these topics, take questions and more for Femdom Fridays.

Do you find yourself craving in depth conversations as foreplay? Chemistry between people plays a huge part in our relationships, but there are also certain personality characteristics that draw us to one another. If you find the mind the most sexually attractive feature we will discuss, the why, where to focus your efforts, and how your brain can be the ultimate kinky toy. Tap into your sapiosexual side!
Femdom Friday airs every SECOND Friday @ 8PM EST.
Links from the Show:

Here's a blog post from a new friend of Dating Kinky, Confident Cuck, that is both a great read and dovetails with the sapiosexuality theme.


Marc (@Deviance_Desire) is a Leatherman and polyamorous lifestyle Dominant of 30+ years. He has two partners and lives in Singapore. He is active in communities in Western Australia and Singapore and has traveled to the US and Europe for events. In addition to running the Deviance & Desire website, he moderates the BDSM Glossary on Fetlife, which is the go-to place for definitions there, as well as a group called This Week in Kink which looks at how kink is being presented in popular media.
[/am4show]
[am4show have='p2;p8;p9;p10;p36;' ]
[/am4show]
[am4guest not_have='p2;p8;p9;p10;p36;' ]
[/am4guest]